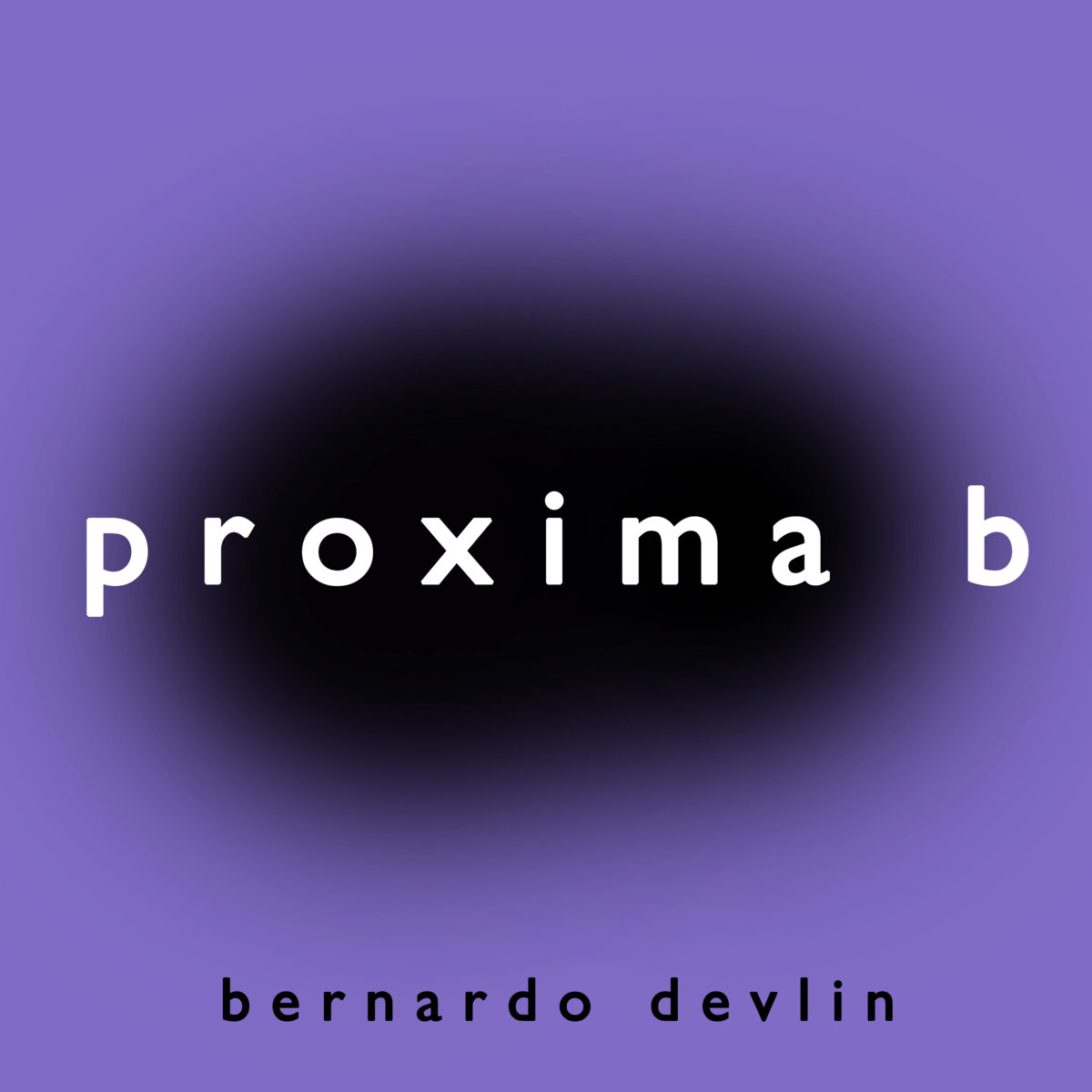 Proxima B (As duas antenas do caracol)
play_circle_filled

01. Verde escuro
Bernardo Devlin

play_circle_filled

02. Meio
Bernardo Devlin

play_circle_filled

03. A era do reactor
Bernardo Devlin

play_circle_filled

04. Mácula lútea
Bernardo Devlin

play_circle_filled

05. Demo
Bernardo Devlin

play_circle_filled

06. Lusco-fusco
Bernardo Devlin

play_circle_filled

07. Balorama
Bernardo Devlin

play_circle_filled

08. Em dó
Bernardo Devlin
One might be forgiven for being a little bit cautious with any record that invokes Jacques Brel, Leonard Cohen, Nico, and Scott Walker in its press release. Such claims are often unfounded and depressing, and tend to conjure up a tawdry parody of Neil Hannon rather than those monolithic artists so confidently listed above. Imagine the pleasant surprise to find these references entirely fitting in this case. Portuguese Bernardo Devlin has been releasing work since the 1980s and while he's remained under the radar so to speak, he has built a solid body of unusual and interesting work. Seemingly forging his own way through influences, impervious to trend or trope.
Proxima B, which is brilliantly subtitled 'As duas antenas do caracol' ("The two antennae of the snail"), is his latest offering. It is a dark and spacious record that revels particularly in the realm of strings, which are scratchy and gnarly. The bows drawing skilfully but painfully over the instruments in a way that brings the physicality of playing to the fore. 'Lusco-fusco' really shines in this respect. Devlin and his musicians are masters of timbre and amongst this we have the strange bangs and clatters perhaps as well associated with the supernatural as much as they are percussion.
This stuff is sparse but effective and the melodic and rarely strummed guitar creeps in and around the arrangement like bindweed strangling a hedgerow. Everything weaves and creeps making a sort of foliage home for the voice. And the voice is so much the point here, I think. A tense and controlled baritone that fairly insists its way onto the recordings like a malevolent mist. Now, it's always a little curious to try to write critically about a language you don't speak, and I don't want to fall into some dreadful pompous stuff about Pheno/Geno song, but in the absence of understanding the words, I am left simply with what the voice does physically. And that can be wonderful, right? A human voice curling around syllable, grasping at utterance and somehow articulating its feeling and themes without the level of signification available to someone fluent in that language.
There is a feeling of care, and of deep sadness here. Right from the first vocal on 'Verde Escuro' which arrives by way of distant thunder, the theatre and musicality of the voice is engrossing and faintly upsetting. Brel and Cohen really do feel like appropriate references here, and I certainly mean that in a good way. There is a little of Tindersticks here, too, I think, but less extreme in its delivery. though that same sense of a dark theatre space laced with melancholy seems to preside over these eight songs. There is a taste for challenging intervals and unusual harmonies. Moments of chromatic passing notes and extended chords are common, and the spartan nature of arrangement really hammers this home. Although in album closer 'Em Dó' Devlin has given us a more playful outro. A necessary short section that allows just a touch of whimsy in to bring us back to our rooms and our real lives without the lingering feeling of beaten, world-weary heaviness that haunts the rest of the collection.
While the influences are clear (and writ large in cultural terms), I think there is originality here, and enough of it to make this album well worth some time. It lends itself to headphone-based nights of introspective pondering, and we need records like that don't we? Records where it is always night-time. Forever.
– The Quietus, Johny Lamb

Co-producer – Nuno Tempero
Graphic Design – Bernardo Devlin, Rita Braga
Mastered By – Guilherme Gonçalves
Mixed By – Bernardo Devlin, Guilherme Gonçalves, Nuno Tempero
Producer – Bernardo Devlin
Written By, Composed By – Bernardo Devlin
---